Improve Performance and Competence
Evaluate "Employee Behaviors and Competencies Demonstrated" in addition to "Organizational Results Achieved"
PERFORMANCE 

"What" of performance
Quantitative: Tied to unit goals
Short time frame: One year,
Past performance
Reward oriented
COMPETENCIES
"How" of performance
More qualitative
Longer time frame: Future
Performance in present and future jobs
Development (behavior change)
We Help Organizations:
Design total competency-based performance management systems that are linked to work planning or goal-based systems, and to competency development and succession planning processes.
Identify job responsibilities, performance standards and measures, and competencies to be reviewed for employees in the target jobs.
Implement performance review processes that give accurate feedback to people regarding their performance against agreed-upon standards.
Develop communications, review methods and training of managers.
What is Competency-Based Performance Management
Many organizations are becoming more interested in management and appraisal of competence – the "how" of performance. They are seeking more qualitative assessment, oriented to the future and focused on development. A competency-based approach brings a different perspective to performance management. Performance is viewed in terms of the process em­ployees use to achieve their job results. It combines planning, management, and appraisal of both perfor­mance results and competency behaviors. It assesses what employees accomplished and how they did it (with personal characteristics they possess that predict superior performance in present jobs, or in future jobs).
Performance and competence are balanced in a competency-based performance management system. In a line job, achievement of performance results may be weighted 80-90 percent and demonstration of competency behaviors only 10-20 per­cent. At the other extreme, an appraisal form for a service position might weight competence 100 percent. Performance objectives for a staff job might give equal weight to results and demonstration of competency behaviors.
In traditional systems, achievement of performance results is quantified, past oriented, and tied to unit goals, based on a short term, and used to make compensation decisions. Competency appraisal is more qualitative, longer range, future oriented, and used for employee devel­opment and career path planning.
PERFORMANCE
("pay for results")
50%-90%
"What" of performance
Quantitative: Tied to unit goals
Short time frame: One year,
Past performance
Reward oriented
COMPETENCIES
("pay for skill")
10%-50%
"How" of performance
More qualitative
Longer time frame: Future
Performance in present and future jobs
Development (behavior change)
Shifting the Emphasis
Competency-based performance management systems shift the emphasis of appraisal from organization results achieved to employee behaviors and competencies demonstrated. Diag­nosis and problem solving to deal with poor performance takes this form: "If results are not at the desired level, give higher priority to these job tasks, demonstrate these behaviors more often, and develop these competencies" (i.e., model the task priorities, behaviors, and competency levels of the best performers in the job).
An important factor in implementing a competency-based perfor­mance management system is the training of managers to provide coaching and developmental assistance. (Studies of effective performance management sys­tems consistently find training to be an important input.)  Employee training also helps employees understand how the system works, what their role is, how to assess themselves, and how to contract for competency development activi­ties with their managers.
Employees' Perspective of the Performance Management Process
From an employee's perspective, performance management involves five steps, as shown in the above illustration. Step 1 is to write your job goals and develop appropriate action plans. Step 2 gives you the chance to review your progress with your supervisor so he/she can let you know how well you are doing, allowing him/her to guide and coach you as needed. Step 3 is where career development plans are discussed. Step 4 is the quarterly or annual performance review, where your overall job responsibilities and achievements are evaluated. Step 5 is a discussion of pay decisions related to your performance.
Our Performance Planning and Review booklet covers these steps in more detail. It describes employees' role in the planning and review process. It includes sections on setting job goals, reviewing progress, career development, the annual review, and the correlation to compensation actions.
17 pages (PDF) https://workitect.com/PDF/performance-planning-and-review.pdf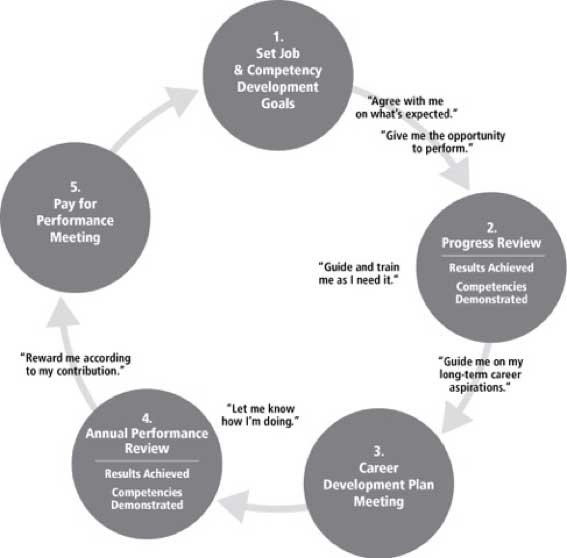 Organizational Issues
Problems that indicate a need for competency-based performance management include the following:
Job performance standards and appraisal criteria are seen as unequal or unfair,
Performance appraisal is seen by managers and employees as a bureau­cratic "paperwork" exercise,
Employees see nothing in the system for them,
Has little impact on actual man­agement,
Does not reflect or reinforce the organization's strategy.
Particularly appropriate for:
Uncertain Environments,
Qualitative/Process Service Jobs,
Jobs Intended for Development of Future Performance,
Changing Organizational Strategy, Focus, or Markets.
A Blueprint for Competency-Based Performance Management
What a competency-based approach is and does, its impact on individual and organizational results, organizational issues addressed, situations best served by a competency-based approach, and steps to implementing. 5 pages (PDF)
Make Performance Management a Positive Experience
Performance management can be improved in most organizations with a few basic, common-sense principles. These principles also can help make performance management a good source of motivation. Since performance management is a human process, however, following a prescribed formula will not satisfy employees in all situations. 5 pages (PDF)