Competent, Competence, or Competencies
Definitions according to Merriam-Webster Dictionary
Competent  
Proper or rightly pertinent
Having requisite or adequate ability or qualities: Fit – a competent teacher – a competent piece of work
Legally qualified or adequate – a competent witness
Having the capacity to function or develop in a particular way
Competence
A sufficiency of means for the necessities and conveniences of life
The quality or state of being competent: such as:

The properties of an embryonic field that enable it to respond in a characteristic manner to an organizer
Readiness of bacteria to undergo genetic transformation

The knowledge that enables a person to speak and understand a language – has demonstrated competence in conversational Arabic
In most dictionaries, Competency is considered a synonym of Competence.
The ability to perform a specific set of actions or achieve a specified set of outcomes. It describes what an organization, functional unit, or team does. In considering whether a team has the capability to do something, we are really looking at whether they know how to do it. Do they understand the process or have the equipment required?

About Core Competencies and Job Competency Models
Assumptions
In every job, some people perform more effectively than others.
Superior performers do their jobs differently and possess different characteristics, or "competencies", than average performers do.
These differences are valuable: on average, 40% of salary.
The best way to identify the characteristics that predict superior performance is to study your top performers.
A competency is an underlying characteristic of an individual, which can be shown to predict Superior or Effective performance in a job; and indicates a way of behaving or thinking, generalizing across situations, and enduring for a reasonably long period of time.
There are five types of characteristics:
Skills: e.g., active listening
Knowledge: e.g., electronics, conflict resolution methods
Self-Concept (attitude or value): e.g., team vs. personal achievement, occupational preference
Trait: e.g., stamina
Motive: e.g., achievement motivation
Motive, trait, and self-concept competencies predict skill behavior actions, which in turn predict job performance outcomes.
Visible vs. Hidden Characteristics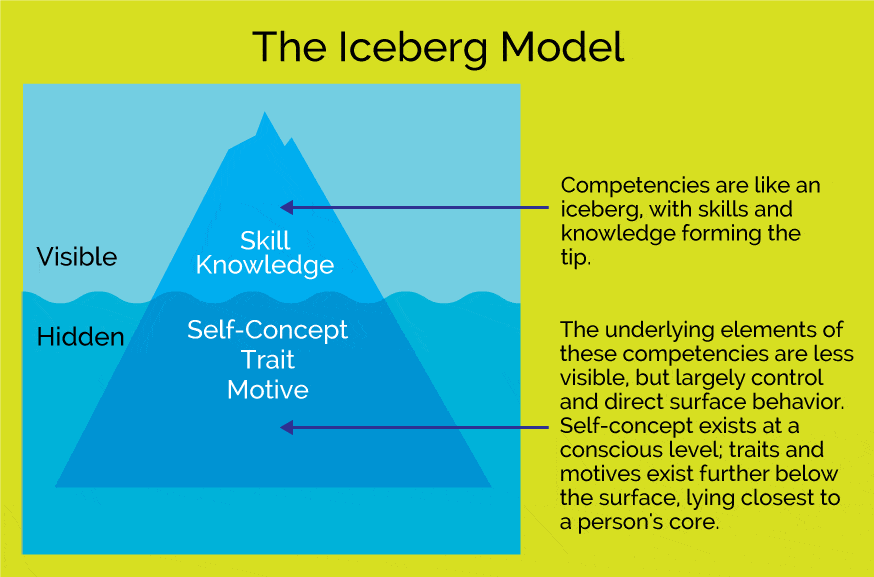 Example of a Competency
Here is an example of a competency in a commonly used format:
DIAGNOSTIC INFORMATION GATHERING
(#16 in Workitect's Competency Dictionary)
Definition: Identifying the information needed to clarify a situation, seeking that information from appropriate sources, and using skillful questioning to draw out the information, when others are reluctant to disclose it.
Behavioral Indicators (observable, measurable ways to demonstrate the competency):
Identifies the specific information needed to clarify a situation or to make a decision
Gets more complete and accurate information, by checking multiple sources
Probes skillfully to get at the facts, when others are reluctant to provide full, detailed information
Routinely walks around, to see how people are doing and to hear about any problems they are encountering
Questions others to assess whether they have thought through a plan of action
Questions others to assess their confidence in solving a problem or tackling a situation
Asks questions to clarify a situation
Seeks the perspective of everyone involved in a situation
Seeks out knowledgeable people to obtain information or clarify a problem
Competencies and Performance
Motive, trait, and self-concept competencies predict skill behavior actions, which in turn predict job performance outcomes, as shown in this MOTIVATION/TRAIT ➾ BEHAVIOR ➾ OUTCOME  •  causal flow model:

What are Job Competency Models?
A model is a group of related competencies that together describe superior or effective performance for a particular job or role, in a particular organization.
Workitect's competency modeling process starts with superior performers being identified, and then studied, to determine the skills, knowledge and personal characteristics that they possess that enables them to be superior performers. The methods used to collect data for the study, such as behavioral event interviews and expert panels, are designed to get beneath mere opinions about superior performance and superior performers.
Competency Models developed by Workitect include these sections:
Overview of the competencies (typically 8-12) that may include competencies required to support the company's mission, values, and strategy.
Major responsibilities and performance measures
Definition and behavioral indicators of each competency
Optional –
– Links between responsibilities and competencies
– Technical skills and knowledge requirements
– Future Scan – potential changes affecting the job in the future
– Recommendations on ensuring that incumbents demonstrate each competency, through selection, development, and/or training
Benefits of a Competency-Based Approach
Results are tied to performance…not just opinion
Job-related…not theoretical
Characteristics are behaviorally specific… so you can see and measure them
Identifies job requirements and success… what success "looks like in action"
Bottom Line
If you can identify and motivate/leverage the competencies which predict superior performance, you can

Select for these competencies, increasing the number of "stars" in the organization,
Teach and performance manage (coach) these competencies,
…and have a good statistical chance of significantly improving bottom line performance.
Read More
Models we have created for executive, project manager, branch manager, sales, IT, and retailing positions. Scaled ratings are an optional format. Examples of applications developed for selection, performance management, and training. 11 page PDF
Describes competencies, how to develop competency models and how to create an integrated human resource system with applications for selection, succession planning, career pathing, performance management, and training. Also describes how competency modeling can be used as a tool to drive organizational change by determining the competencies that will be required by the organization to reach its strategic plan. 10 page guide.
Implications for talent management and development, the Iceberg Model, example of a competency (Adaptability) Blog
Our Methodology
Our approach is based on the original job competence assessment (JCA) methodology* developed in the 1970's by Dr. David McClelland, a pioneer in competency research and testing, and consultants at Hay/McBer and Company.
*Reference: Competence At Work by Lyle and Signe Spencer (1993 – John Wiley & Sons), a comprehensive guide and reference book, with examples and illustrations backed by rigorous research.
What Our Customers Say
---
"The Building Competency Models workshop was a great introduction to competency models, how to design and how to deploy them in your organization. The facilitations helped me tie in our actual situations and utilized case studies to make the concept real."
"Very different way to look at competencies than we have used traditionally. Refreshing & Challenging!"
"Competency modeling is an essential process for all organizations. After completing this workshop, I feel well equipped with the knowledge and skills to help communicate, develop, and implement competency models for our organization."