Competency Development Guide
The Competency Development Guide is the 6th Edition of an easy-to-use, 280-page, 8.5″ x 11″ spiral bound handbook
featuring actionable tips and resources for the development of 35 competencies.
Review The Competency Development Guide
Contents at a Glance
PART I—Self-Competence, A Road to Job Satisfaction
CHAPTER 1: PERFORMANCE TODAY, COMPETITIVE EDGE TOMORROW
The Focus on Competencies Helps Employees Sharpen Their Focus
CHAPTER 2: YOUR PARENTS WERE RIGHT. YOU REALLY ARE FILLED WITH POTENTIAL
Steps to Developing Competencies
CHAPTER 3: WHERE DO YOU WANT TO GO, WHAT DO YOU WANT TO DO, AND WHAT ARE YOU WILLING TO DO TO GET THERE?
Identifying the Competencies You Want to Develop
CHAPTER 4: COMPETENCY DEVELOPMENT IS NOT A ONE-PERSON JOB
Gather Your Resources and Solicit Help from Coaches and Managers – The Development Planning Process (8 Steps)
Part II—Guidelines for Developing 35 Core Competencies
CHAPTER 5: COMPETENCIES DEALING WITH PEOPLE
Leading Others Cluster – 8 Competencies – The Communicating and Influencing Cluster – 7 Competencies
CHAPTER 6: BUSINESS COMPETENCIES
Preventing and Solving Problems Cluster – 6 Competencies – Achieving Results Cluster – 9 Competencies
CHAPTER 7: SELF-MANAGEMENT COMPETENCIES – 5 Competencies
PART III—Appendix
Competency Definitions and Behaviors Summary
Worksheets (Usable: tear-out or copy)
Applications of Competency Modeling
Example of an Executive Team Model
External Resources – Providers and Directories of Training and Development Programs
For Each Competency, There Are Sections On:
A definition and observable behaviors that may indicate the existence of a competency in an individual
Importance of the competency
General considerations in developing the competency
Practicing the competency
Obtaining feedback
Learning from experts
Coaching suggestions for managers
Sample development goals
Books
Self-study courses
External courses and seminars
Details of the Competency Development Guide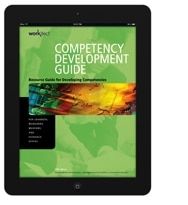 The Competency Development Guide, also known as the Resource Guide for Developing Competencies, is a workbook that helps organizations implement competency-based human resource systems, and helps individuals improve their competencies and opportunities for career advancement. This 280-page, 8.5" x 11″, spiral-bound workbook provides background on competencies and instruction on setting competency development goals, along with specific suggestions for developing each of 35 different competencies.
Developing competencies can be initially overwhelming for even the most experienced HR practitioners. Workitect's Competency Development Guide – Resource Guide for Developing Competencies provides you with a helpful starting point, as well as in-depth information to guide you through the entire process of developing competencies. Whether you're looking for a ready reference guide or a comprehensive resource, this workbook (e-versions available) will give you the information you need to develop 35 competencies.
Benefits For Employees
Employees will benefit personally from the competency-specific guidance offered in the Guide, a must-have resource for any business professional interested in personal career development. The Guide outlines not only what the competencies entail, but provides tips on how to develop and practice the competency, along with an extensive list of additional resource materials.  Learn more
Options And Benefits For Organizations
Choose From A Range Of Options To Meet Your Needs:
Individual copies that can be purchased
A PDF version that can be electronically distributed to employees, or printed and distributed based on their needs
An intellectual property license that includes Word documents that can be easily modified to reflect an organization's specific requirements.
Subscriptions to the online eDeveloper™, an interactive elearning program that incorporates content from the Competency Development Guide.
Taking the time and using the right tools to develop competencies can help you improve hiring decisions, increase productivity and enhance organizational performance. These extensive guides provide you with detailed information to streamline competency development and ensure effective implementation.
The time you'll save by relying on the advice and examples in this manual will more than cover the cost of ensuring that you, your staff, and key managers have ready access to the tools and information they need.
Focused Competency Development Program
The objective of this program is to improve each person's performance in terms of their position-specific competencies, and the organization's overall performance against those competencies, through feedback, coaching, and training.
Organizations With An Intellectual Property License
These organizations have acquired intellectual property licenses that have enabled them to provide customized guides for all employees throughout their organization. The Competency Dictionary license that is included with this license has also enabled them to build job competency models and competency-based HR and talent management applications.
Resource Guide For Developing Global HR Competencies
The Resource Guide for Developing Global HR Competencies is the second edition of a 166-page spiral-bound book that provides a comprehensive listing of resources for developing 18 strategic and tactical HR competencies from our competency dictionary for HR that are required of Human Resource professionals working anywhere in the world, including in locations with limited access to resources.
What Our Customers Say
---
"The abundance of useful tools, templates and examples amazed me. These are things I can put to use immediately to drive performance through competency models in my business unit."
"Very relevant, good information and great tools"
"Great tools for building competencies"