THREE CUSTOMIZABLE TOOLS FOR
SELECTING AND DEVELOPING TALENT
Workitect sells licenses for its intellectual property as part of an "integrated set", or competency bundle that includes a Competency Dictionary – Library, Competency Development Guide(s), and Competency Interview Guides for a one-time fee, with no annual renewal fees.
This is an example of how each competency appears in the three formats. The example is for the "Strategic Thinking" competency.
These three products together will enable your Human Resources department to quickly implement a complete competency-based talent management system, without the need for expensive software. You will be able to build competency models, interview candidates, and develop employees using an integrated set of tools with a common set of core competencies that can be customized to your organization's culture, mission, and business strategy. You will also be able to give each employee a copy of his or her own development guide and the tools to create a personal development plan, as LinkedIn and Schwab have done for their employees. Provide each manager with a superb tool to improve your talent acquisition process. You can integrate everything into your own HRIS.
Exclusively For Licensees
Use the dictionary to build a competency model now! Follow the process described in this self-instructional program drawn from our Building Competency Models certification workshop.
Customizable generic models for 12 positions.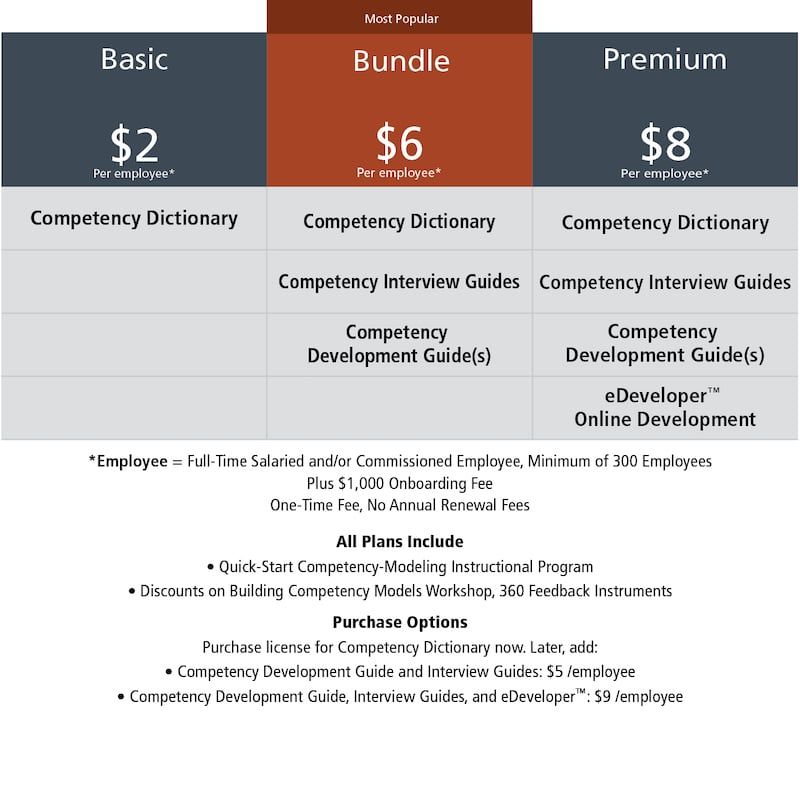 Please contact us at 800-870-9490 or ec@workitect.com if you have any questions, want to see a demo of the materials, or acquire a license.
2022, Workitect, Inc.