How and When the Sessions will be Conducted
| | |
| --- | --- |
| | |
| Session 1 – Conceptualize the Project | October 17 |
| Session 2 – Plan the Project | October 17 |
| Session 3 – Data Collection | October 20 |
| Session 4 – Data Analysis and Coding | October 24 |
| Session 5 – Building & Implementing the Model | October 27 |
| Session 6 – Develop Applications | October 31 |
| Post-Workshop – Individual Consulting Assistance | To Be Scheduled |
ORIENTATION – A one-hour orientation meeting will be scheduled prior to the first session, during which the schedule for the sessions will be reviewed and, with a consensus of the group, modified to accommodate schedule conflicts of participants. With the program being limited to eight participants, some flexibility in scheduling is possible.

Each of the sessions will be held using Zoom conferencing on Tuesdays and Fridays from 1:00 PM – 3:30 PM EDT.
• Between each session, there will be 1-2 hours of readings, exercises, and assessments to complete.
• Materials will include the full 3-day workshop workbook, contents of the Quick-Start Competency Modeling program, various Powerpoints, and additional handouts and forms.
Approved for HRCI Recertification Credits
Workitect's Six-Step Building Competency Models Process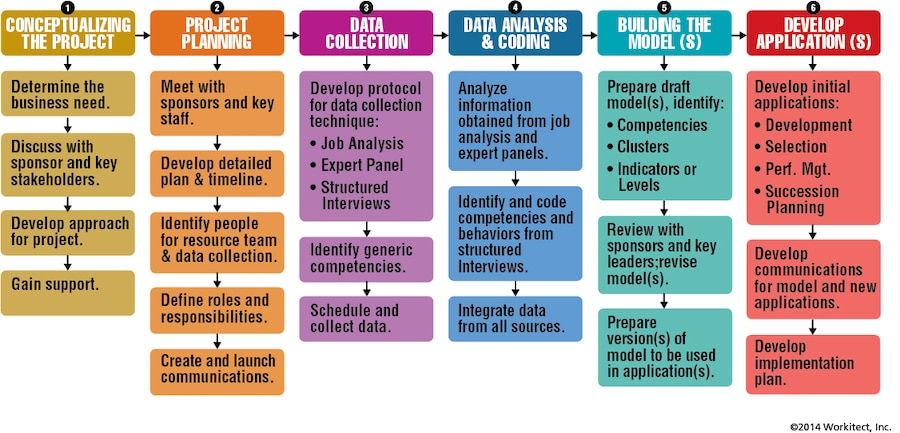 Instructor/Consultant/Coach
Richard Gerlach
Vice President, Consulting and lead instructor for the highly-rated Building Competency Models workshop.
He has thirty-five years of experience in leadership and executive development, training, human resources, and organization development. Formerly, held senior leadership positions with Ryder System, Inc. (Group Director-Organization Effectiveness and Human Resource Development), Pabst Brewing Company and Ryan Homes, Inc. He has extensive experience in developing competency-based performance management, selection, assessment and management development processes. Master's Degree in Management from the University of Southern California and Bachelor's Degree in Finance from Western Michigan University.
"Dick is a great trainer – very knowledgeable, humorous/engaging. Love the succession planning piece!"
"Dick is very knowledgeable and has an engaging style. Exceptional Training! "
Competency Dictionary License & Discounted Workshop Fee
The Workitect Competency Dictionary/Library is used throughout each workshop in instructional materials, e.g. coding booklets and interview guides, and in practice exercises. These materials are copyrighted and cannot be used outside of the workshop without written permission by Workitect. Consequently, it is recommended that the organization of each participant acquire a competency dictionary license prior to attendance. Participants with a license will receive a 40% reduction of the workshop fee. Contact us for more information.