THE NEED FOR TALENT
In a growing economy or in a down economy, there is always a need for employees at all levels to be fully competent and motivated. Global competition, rapidly changing technology, and increasing customer expectations are demanding more of our organizations and the people within them. In addition, our educational systems appear to not be producing enough prospective employees with the right skills and knowledge needed by business. It is clear that the top performing organizations of the future will have a sound strategy and competent and talented "human resources" who are committed to the goals of the organization.
What are the implications for you as a member of the workforce? There is a way for you to impact several extremely important parts of your work life—your everyday job performance, the relationships with your co-workers, bosses, subordinates and preparedness for other roles and careers. You can do this by enhancing and developing core competencies, abilities, capabilities, etc. There are many ways to do this.
By practicing the competency
Obtaining feedback
Learning from experts
Coaching from others
Setting development goals
Utilizing learning resources, such as books, courses, seminars, and e-learning program
WHY COMPETENCIES?
If the word "competency" is not yet a familiar one in your organization, it probably will be within the near future. More and more organizations are developing job competency models, "blueprints" of jobs that list the skills, knowledge, attitudes, motives, etc. that characterize superior performance. These models have a variety of uses, one being a guide for employee development.
Why are job competency modeling popular? Because they are developed by studying what superior performers actually do on a job, rather than relying on theories of what people "think" constitutes superior performance. In other words, they are practical, "real world" and based on fact—not subjectivity. They can also identify the competencies that every incumbent must possess to survive in a position, i.e. the "threshold" competencies that lead to average performance. But the really key contribution is to identify the few competencies that differentiate superior performance from average performance. With this information, organizations can change their human resource processes to select, develop and reward superior performers – which leads directly to increased sales and productivity, reduced costs and the achievement of the organization's strategic and tactical objectives.
For example, if an organization can pinpoint the competencies demonstrated by their top sales people (e.g. the top 20% who produce 80% of the revenue), it can substantially increase sales by selecting and developing a sales force with the appropriate competencies.
As individuals, most of us strive for superior performance, motivated by the desire to excel, to be recognized or rewarded. This book provides guidance to help you be the superior performer your organization is looking for, with the personal benefits that accompany that level of performance.
FROM PATERNALISM TO PERSONAL ACCOUNTABILITY— MANAGERS AND EMPLOYEES AS COACHES
Most supervisors are as uneasy about the performance management and career development process as are their employees who are on the "receiving" end. Having a structure and framework for assessing an employee's strengths and developmental needs removes some of the subjectivity from coaching discussions. More importantly, asking employees to self-assess their competency development needs with the help of feedback from others, helps reduce defensiveness and creates a more constructive environment for developmental discussions.
More organizations are putting the responsibility for career development precisely where it should be: in the hands of the individual employee. But employees still need support and coaching from others in the organization. Although the coaching role is usually performed by the employee's immediate supervisor, it can also be played by mentors, team leaders, project managers and other employees. One of the most underutilized resources in organizations today are the experienced, long-service, "journeymen" and "journeywomen" who have served as superior performers in a position and can coach others to superior performance, particularly with regard to the technical proficiency of a particular position. This coaching role can also be performed by retirees who would welcome the opportunity to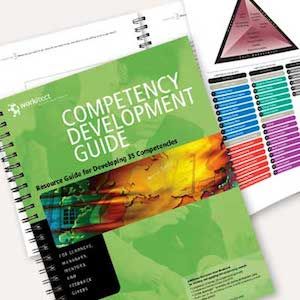 continue to play a meaningful role, even on a part-time, contract basis.

Workitect's Competency Development Guide is a resource guide for developing competencies. Tips for developing thirty-five key competencies are outlined along with instructions on how to identify the competencies needing development.
Check out the Talent Retention Kit, a set of three integrated tools to retain the talent in your workforce.

To learn more about our products and services, and how competencies and competency models can help your organization, call 800-870-9490, email edward.cripe@workitect.com
or use the contact form at Workitect.
©️2021, Workitect, Inc.