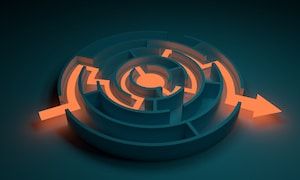 Whether functioning as a supervisor, coach or employee, a review of several concepts relating to career development helps pave the way to new levels of understanding, insight and growth – and the development of competencies needed for success in an organization.
1. Not Just For Promotion —
It is important to recognize that employee development is not limited to upward mobility. Becoming more knowledgeable, proficient and professional in the performance of current responsibilities can represent career development just as much as moving to a different assignment. Also, there is potential for increasing the responsibilities in a position as the employee grows into them.
2. Personal Responsibility For Growth —
The employee must assume responsibility for career planning and personal development. The company cannot help to develop an employee who does not wish to develop. Consequently, it is important that the employee know him or herself. He/she must define personal goals, determine whether these goals are attainable, take time to evaluate the skills and knowledge needed to achieve these goals and set priorities for starting on the chosen path. Only the employee can answer the crucial questions of "Where do I want to go?" and "How much of myself am I willing to invest in order to get there?"
3. Interdependent Roles —
There is a dual effort in this process. While it is the individual's responsibility to achieve the level of success desired, the organization has a responsibility to provide the necessary coaching, counseling, personnel structures, and other support to the individual, so that he/she can make progress toward his/her goals.
4. Honesty —
Both the organization and the employee must be honest with themselves. The employee must realistically assess his/her abilities, skills, knowledge, and potential as well as the level of his/her personal commitment to the chosen career path. At the same time, the company must be honest with the employee as to whether career objectives are feasible or probable in terms of future organizational needs. The manager needs to make it very clear that the company cannot make any promises to the employee. All the company can guarantee is that it will do its best to provide resources that will facilitate employee growth that is in keeping with the attainment of corporate objectives.
Source: Competency Development Guide, page 19

To learn more about our products and services, and how competencies and competency models can help your organization, call 800-870-9490, email info@workitect.com
or use the contact form at  Workitect.
©️2019, Workitect, Inc.