The objective of this program is to improve each person's performance in terms of their position-specific competencies, and the organization's overall performance against those competencies, through feedback, coaching, and training.
Each targeted competency is trained in 2-4 hour modules followed by focused individual development efforts.
This approach consists of nine steps:
A. DEVELOP A COMPETENCY MODEL FOR THE POSITION OR JOB GROUP
1. Create a formal competency model for the specific job group.
A competency is an underlying characteristic of an individual, which can be shown to predict Superior or Effective performance in a job; and indicates a way of behaving or thinking, generalizing across situations, and enduring for a reasonably long period of time.
A competency model is a group of 8-14 related competencies that together describe successful performance for a particular job or role, in a particular organization.
Examples of Models. (PDFs)
B. IDENTIFY THE STRENGTHS AND DEVELOPMENT NEEDS OF EACH INDIVIDUAL AND THE TOTAL GROUP.

2. Customized 360°survey
A customized 360° feedback instrument based on the model is developed and administered.
The survey provides clear, concise feedback from direct reports, peers, internal customers and supervisors along with the participant's self-assessment. The participant receives feedback on the degree to which he/she has been observed demonstrating competencies identified and listed in the group's competency model, usually 8-14 competencies.
3. Feedback to each individual
Each participant receives a feedback report that identifies strengths and development opportunities. This is done in a session where the participants learn how to interpret and use the feedback to prepare individual development plans.
4. Identify the total group's needs
For the group, this baseline assessment identifies which competencies are strengths and which require development in order to help the organization meet its long and short-term goals.
In addition, participant strengths and development areas can be used to identify optional team projects which can provide developmental experiences in desired competencies for group members.
C. PLAN AND CREATE A TRAINING AND DEVELOPMENT APPROACH AND PROGRAM
5. Plan the development approach and program
Based upon the baseline data, a training and development curriculum, including learning goals for each of the targeted competency development modules, is planned.
6. Develop training materials
Select or develop the required training materials. Materials already exist for many of the competencies.
 D. IMPLEMENT THE PROGRAM
7. Conduct training
Training for each targeted competency is delivered in 2-4 hour modules. Workitect's instructors or an organization's own instructors can be trained to conduct sessions.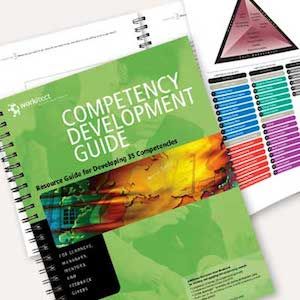 8. Complete individual development plans
At the end of each module, participants work on their individual development plans, utilizing Workitect's Competency Development Guide and online eDeveloper™. These guides contain tips and resources for the development of 35 specific competencies.
This is where the optional team projects can be introduced as a developmental approach for selected competencies.
9. Follow-up coaching
Managers are trained in coaching skills and in the use of the Competency Development Guide to help participants achieve their individual development goals.

To learn more about our products and services, and how competencies and competency models can help your organization, call 800-870-9490, email edward.cripe@workitect.com
or use the contact form at  Workitect.
©️2019, Workitect, Inc.