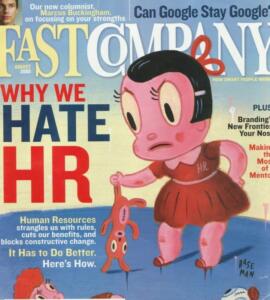 In August, 2005, the business magazine FastCompany published a thought-provoking article written by Keith Hammonds, titled "Why We Hate HR".  It was meant to be the viewpoint of non-HR executives at the time. We are re-publishing it here to stimulate an assessment and discussion of the points that were made in the article, points that may have or may not have had a ring of truth nine years ago. We encourage you to post your comments. Do some executives still view the HR function this way? How has HR changed and how does it still need to change?
___________________________________________________________________________
IN A KNOWLEDGE ECONOMY, COMPANIES WITH THE BEST TALENT WIN. AND FINDING, NURTURING, AND DEVELOPING THAT TALENT SHOULD BE ONE OF THE MOST IMPORTANT TASKS IN A CORPORATION. SO WHY DOES HUMAN RESOURCES DO SUCH A BAD JOB — AND HOW CAN WE FIX IT?
Well, here's a rockin' party: a gathering of several hundred midlevel human-resources executives in Las Vegas. (Yo, Wayne Newton! How's the 401(k)?) They are here, ensconced for two days at faux-glam Caesars Palace, to confer on "strategic HR leadership," a conceit that sounds, to the lay observer, at once frightening and self-contradictory. If not plain laughable.
Because let's face it: After close to 20 years of hopeful rhetoric about becoming "strategic partners" with a "seat at the table" where the business decisions that matter are made, most human-resources professionals aren't nearly there. They have no seat, and the table is locked inside a conference room to which they have no key. HR people are, for most practical purposes, neither strategic nor leaders.
I don't care for Las Vegas. And if it's not clear already, I don't like HR, either, which is why I'm here. The human-resources trade long ago proved itself, at best, a necessary evil — and at worst, a dark bureaucratic force that blindly enforces nonsensical rules, resists creativity, and impedes constructive change. HR is the corporate function with the greatest potential — the key driver, in theory, of business performance — and also the one that most consistently underdelivers. And I am here to find out why.
Why are annual performance appraisals so time-consuming — and so routinely useless? Why is HR so often a henchman for the chief financial officer, finding ever-more ingenious ways to cut benefits and hack at payroll? Why do its communications — when we can understand them at all — so often flout reality? Why are so many people processes duplicative and wasteful, creating a forest of paperwork for every minor transaction? And why does HR insist on sameness as a proxy for equity?
It's no wonder that we hate HR. In a 2005 survey by consultancy Hay Group, just 40% of employees commended their companies for retaining high-quality workers. Just 41% agreed that performance evaluations were fair. Only 58% rated their job training as favorable. Most said they had few opportunities for advancement — and that they didn't know, in any case, what was required to move up. Most telling, only about half of workers below the manager level believed their companies took a genuine interest in their well-being.
None of this is explained immediately in Vegas. These HR folks, from employers across the nation, are neither evil courtiers nor thoughtless automatons. They are mostly smart, engaging people who seem genuinely interested in doing their jobs better. They speak convincingly about employee development and cultural transformation. And, over drinks, they spin some pretty funny yarns of employee weirdness. (Like the one about the guy who threatened to sue his wife's company for "enabling" her affair with a coworker. Then there was the mentally disabled worker and the hooker — well, no, never mind. . . .)
But then the facade cracks. It happens at an afternoon presentation called "From Technicians to Consultants: How to Transform Your HR Staff into Strategic Business Partners." The speaker, Julie Muckler, is senior vice president of human resources at Wells Fargo Home Mortgage. She is an enthusiastic woman with a broad smile and 20 years of experience at companies such as Johnson & Johnson and General Tire. She has degrees in consumer economics and human resources and organizational development.
And I have no idea what she's talking about. There is mention of "internal action learning" and "being more planful in my approach." PowerPoint slides outline Wells Fargo Home Mortgage's initiatives in performance management, organization design, and horizontal-solutions teams. Muckler describes leveraging internal resources and involving external resources — and she leaves her audience dazed. That evening, even the human-resources pros confide they didn't understand much of it, either.
This, friends, is the trouble with HR. In a knowledge economy, companies that have the best talent win. We all know that. Human resources execs should be making the most of our, well, human resources — finding the best hires, nurturing the stars, fostering a productive work environment — just as IT runs the computers and finance minds the capital. HR should be joined to business strategy at the hip.
Instead, most HR organizations have ghettoized themselves literally to the brink of obsolescence. They are competent at the administrivia of pay, benefits, and retirement, but companies increasingly are farming those functions out to contractors who can handle such routine tasks at lower expense. What's left is the more important strategic role of raising the reputational and intellectual capital of the company — but HR is, it turns out, uniquely unsuited for that.
The author went on to describe four reasons he thought HR was "unsuited".
1) HR people aren't the sharpest tacks in the box.
2) HR pursues efficiency in lieu of value.
3) HR isn't working for you.
4) The corner office doesn't get HR (and vice versa)

To learn more about our products and services, and how competencies and competency models can help your organization, call 800-870-9490, email edward.cripe@workitect.com
or use the contact form at  Workitect.
©️2019, Workitect, Inc.