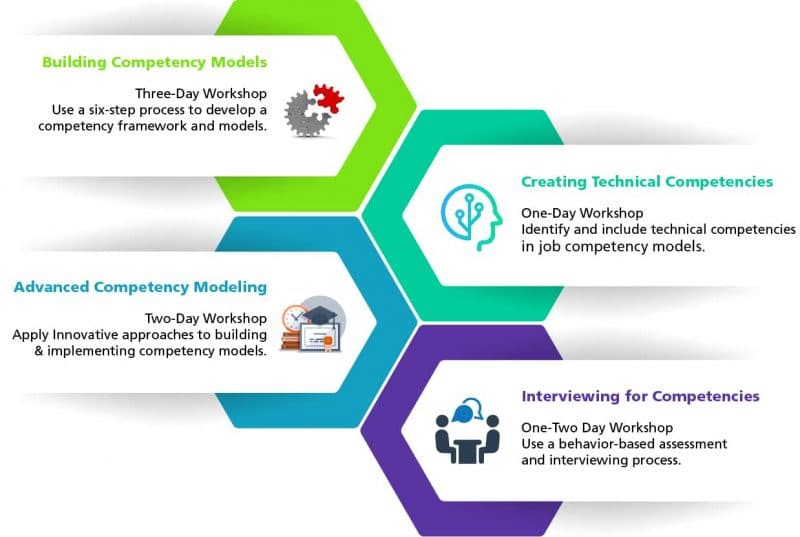 The Workshops.
Here are four interactive workshops that can be conducted at your facility by our expert facilitators, each with more than 40 years of experience building and implementing competency models, frameworks, and talent management applications.
The 3-day Building Competency Models workshop is the core program. It teaches participants how to build and apply competency models. It is a pre-requisite to attending the Creating Technical Competencies or Advanced Competency Modeling workshops.
Built on best practices and decades of research, Workitect offers the most effective competency framework available today. Learn how to develop and implement models within your organization to align your business strategy with your talent strategy.
This 3-day workshop gives participants a six-step process for developing their own competency models without external assistance. 

Agenda for 3-Day On-Site Building Competency Models Workshop
In this 1-day workshop, learn how to identify and include technical competencies in job competency for professionals, technical, or functional positions.
Improve each person's performance in terms of their position-specific competencies, and the organization's overall performance against those competencies, through feedback, coaching and training.
This workshop is often combined with the Building Competency Models workshop.
This 2-day two part workshop covers:
Part 1: Creating Technical Competencies
Part 2: Applying Innovative approaches to building & implementing competency models.
This 1-day workshop teaches participants to use a competency-based process to conduct a structured behavioral interview and assess an individual's competencies. This assessment process can also be used to collect data for developmental coaching and career counseling.
For executives, managers and team leaders in line or staff functions who are responsible for interviewing, assessing, and selecting internal or external candidates for positions.
The program will be particularly useful to participants from organizations with competency models in place or planned.
Benefits of On-Site Programs
Faster application and transfer of learning
Tailored to your needs — We work with your team up front to fully understand your organization objectives, and timeframe.
Flexibility to blend consulting with training
A confidential environment in which your team can explore immediate application of our processes
Cost savings in tuition fees and travel expenses compared to public workshops
On-site workshops have been conducted for organizations including  Google, Air Canada, Braskem (formerly Sunoco Chemical), Franklin Templeton, the U.S. Department of Defense. Read more >>
Conditions
The organization needs to acquire a license to use the Workitect Competency Dictionary or supplies its own dictionary.
The sponsoring organization provides the facility and AV equipment.
Contact us for additional details, including instructor fees.