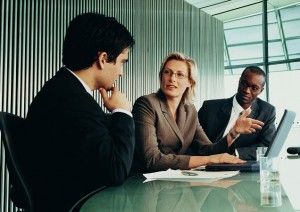 As we enter the third quarter of 2014, most organizations are preparing to kickstart the financial planning process for 2015. If your intentions are to gather a few key executives, discuss the competitive landscape, review market demand, trends and innovations, and develop strategies based on these findings, you should probably expect to encounter a few challenges.
Why? Simple: Your chances of success are driven by your employees' ability to adequately execute the strategies you develop, because even the best course of action or the most accurate market analysis cannot yield the right results if you do not have the talent to execute it with precision.
Companies cannot afford to overlook talent, particularly in the current economic environment. It is now more than ever critical to consider your workforce's ability to take on new challenges and adapt to changing directions before deciding on the very strategies that will take you where you want to go.
To do so, companies need to get HR involved in their annual planning exercise: first to provide a precise account of the skills, competencies and expertise readily available in-house, and then to identify any gap that need to be remedied in order to support the goals and strategic direction of the organization going forward.
By enlisting HR's expertise in planning for the year ahead, companies grant themselves the opportunity to optimize the effectiveness of their strategies, as well as the organization's competitiveness and overall performance.
Talent as a key differentiator
Talent has become the ultimate differentiator and a critical source of competitiveness for organizations around the globe. Nevertheless, very few executives grasp the intricate dynamics of talent development and business strategy. In fact, a survey conducted for The Talent Imperative states that "fewer than one in ten executives from midsized private companies say their talent strategies are intimately aligned with overall strategic planning."
According to the study and a supporting Forbes article, if talent is often overlooked as a source of competitive advantage it is simply because it isn't made a priority at the C-suite level. Rather, executives seek out new market opportunities, without first evaluating if their current workforce can support these ventures. Such a course of action typically translates into sub-par results because, as previously mentioned, it is your workforce's ability to execute your strategies that is key to success… and a healthy bottom line.
Executives must stop assuming that their employees will be able to adapt and perform in exact alignment to the strategies they develop, but it is still HR's job to plead that case, to demonstrate the importance of accurate workforce assessment and effective development programs in achieving your organization's objectives over time.
Before adopting a new course of action, you must therefore:
Conduct an accurate assessment of your employees' competencies – this can only be achieved with an objective and effective performance evaluation process.
Identify what (if anything) is lacking and how to fill that gap to achieve your goals – this requires transparent top-down and bottom-up communications to understand the strategic direction of the organization, as well as the potential/motivators of your workforce.
Implement a talent development strategy based on your findings – assuming you have clear channels of communication and objective performance assessors.
5 steps to injecting talent into your corporate objectives
If you agree with the above, then you already know that the characteristics of your current talent pool, along with your talent development and career mobility programs, should be key influencers of your top-level objectives. Developing strategies is one thing; executing them is another.
To ensure that your workforce possesses the skills, competencies and drive needed to propel the organization forward, HR must work with other executives to:
Identify the roles and positions where performance can differentiate your organization from its competitors
Establish metrics to define what success looks like in these roles, as well as how performance should be measured
Fill those positions (recruiting or developing) with the right talent with the help of competency models that accurately identify the skills, knowledge, and personal characteristics of the top performers
Develop targeted training and performance optimization programs that are aligned to your organizational goals and talent pool
Enhance engagement and motivation by improving communication with respect to these goals and by building career paths for your employees
We recommend competency modeling as a basis for achieving this because a competency framework supports the idea that results are tied to performance. Not only does it ensure that the right people with the right skills are placed in the right roles, but a competency-based talent management process also facilitates career-pathing, promotes engagement, and fosters skills development; all of which serve to improve bottom-line performance and minimize turnover costs.
We invite you to read this white paper to learn how an integrated, competency-based HR system can serve various applications for selection, succession planning, career pathing, performance management, and training, as well as serve as a key tool to drive organizational change.

To learn more about our products and services, and how competencies and competency models can help your organization, call 800-870-9490, email edward.cripe@workitect.com
or use the contact form at  Workitect.
©️2019, Workitect, Inc.