As the pandemic has made clear, change is inevitable. Whether it is planned or reactive, change typically occurs as a necessity to rapidly evolving frameworks and conditions across all industries, around the globe. An organization's ability to manage change successfully is key to competitiveness and a highly valuable differentiator.
But managing and executing change in the workplace takes very specific skills and a thorough understanding of all the elements that have, will and may affect the company and its employees once the need for change has been acknowledged.
Recognizing the change management competency in your employees
The change management competency refers to the behaviors and skills required to anticipate the need for change, as well as to successfully implement and promote acceptance of change. Individuals who possess this competency constantly expect and welcome change, and adapt to it with little effort or disturbances in performance.
While change management is a critical competency at all levels of the company, it is particularly true for the C-suite because for change to be successful, it must be embedded in the culture and core values of the organization, and communicated effectively and convincingly to all employees.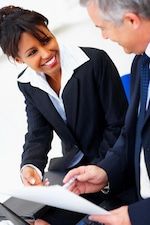 Many individuals are reluctant to change, often due to fear of the unknown and the discomfort of the learning curve ahead. It is imperative for organizations to understand the normalcy of this behavior, and factor in the inevitable push back from a certain number of employees when attempting to implement change.
Accordingly, identifying and developing advocates for change is one of the most important steps of change management, as these are the employees who will help you not only implement change, but also promote it across your entire workforce. Organizations must seek those very individuals who, regardless of their function, exhibit the characteristics and behaviors of the change management competency, which include:
A thorough understanding of the company's goals and limitations
Great awareness of industry developments
A desire to continuously improve processes and optimize results
A deep attachment (or engagement) to the company, culture and values
An inclination to providing support in transition periods
A record of above-average performance
The ability to recognize the need for change shouldn't be confused with the constant pointing out of weak areas within the organization, the latter of which may prove to be more of the result of a dissatisfied employee. Rather, an employee who possesses the change management competency will come to the table with solutions and valid reasoning for wanting to implement change. The intent of the behavior is therefore extremely important to assess to identify true change advocates.
Leadership skills are only but a small token of the change management competency, for without support or a profound understanding of the need for change, a leader can easily steer your employees in the wrong direction, thus serving as a barrier to change.
The role of the organization in communicating and managing change
Of course, identifying your key change management personnel isn't, by itself, going to guarantee a successful transition. Your organization must develop reinforcement programs to reward behaviors that support the change, and otherwise work to minimize resistance.
Remember that when implementing change, you should anticipate a drop in motivation and performance from some employees. To minimize these side effects on your bottom line, you need to ensure that you have properly identified your advocates for change by defining the parameters of the change management competency for your situation, and tasking them with the responsibility to promote and support the transition. Read more in Gaining Commitment to Organizational Change.
Click here to read the chapter in the Competency Development Guide on developing the Managing Change competency.
Click here for the definition, behaviors by role and level of proficiency for Managing Change from Workitect's Competency Dictionary.
To effectively manage change, companies must:
Define the change and every implication at all levels of the organization
Develop an implementation plan and stress-test it with key personnel
Establish a reinforcement strategy to facilitate the transition
Communicate the change, the reasons for the change, the internal and external impacts, as well as the execution plan, to all employees
Provide tools and resources to support employees through the transition
Include "Managing Change" as one of the leadership competencies in your organization's competency framework.
The Strategic Importance of a Competency Framework
A business cannot excel and meet its strategic objectives without having a high percentage of superior performing employees at all levels. Consequently, talent management and development has become a critical challenge for organizations. Many organizations have embraced the concept of competence, competencies, and job competency models as a framework for the development of integrated talent management applications. Successful implementation of competency-based applications for assessment and selection, training and development, and performance management, raises the level of performance throughout an organization. Read more >>
Include Managing Change as a Leadership Competency in Competency Models
A leadership competency model developed for senior management can include the identification of two to six leadership competencies that employees need to demonstrate in order for the organization to achieve its objectives and mission. These "core"competencies help answer the question of "what kind of company do you want our company to be?" Managing Change" is an example for some organizations. The competencies are then included in the job competency models for all positions in the organization. This is an example of the competences in a leadership competency model.

Workitect helps organizations develop competency frameworks, competency models, and HR applications that connect human resource strategies with business strategies. Each of our consultants has at least thirty-five years of experience in competency-based human resources, talent management, organization development, instructional design, and leadership development. Learn more >>

To learn more about our products and services, and how competencies and competency models can help your organization, call 800-870-9490, email edward.cripe@workitect.com
or use the contact form at Workitect.
©️2023, Workitect, Inc.