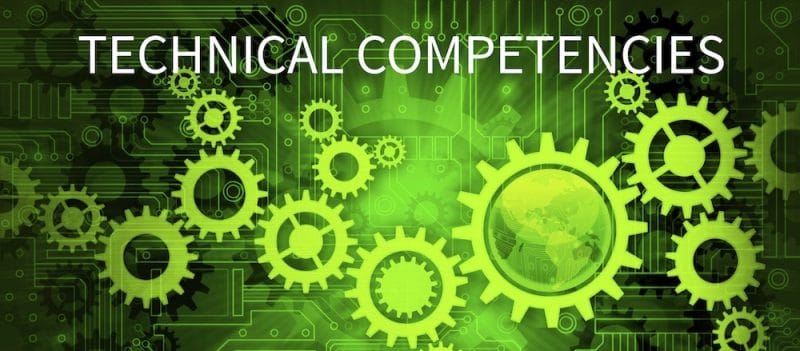 You do not need a technical competencies dictionary in order to include technical competencies in your job competency models.
Identifying the Competencies
In Workitect's model-building methodology, technical competencies are determined through interviews, expert panels, and other methods as described in our "Developing Technical Competencies" blog post, and as taught in our Building Competency Models and Creating Technical Competencies workshops. The purchase of a separate technical competency dictionary is not required.
One Method: The Technical Job Requirements Interview
One of the interview methods is the "technical job requirements interview". This is a one-hour interview that can be used to identify the technical skills and knowledge needed in a single job or in a set of jobs with the same or similar responsibilities (e.g., Sales Representative, Customer Service Representative, Plant Manager, Financial Analyst). The interview can be conducted either with jobholders or managers of jobholders. The interview includes questions about (a) the technical qualifications and experience expected when someone is hired into the job, (b) the most important job responsibilities, and the technical skills and knowledge required to perform each main responsibility.
This interview can be used with superior performing jobholders or managers of jobholders. In either case the interviewees should be persons who have held the role for a minimum of 6 months and preferably at least a year. This interview takes about one hour to conduct. At least two of these interviews should be conducted for each job for which technical skill/knowledge requirements need to be established.
Describing the Competency in a Model
When it is determined that superior performers in a position require a high level of technical expertise in a specific field, the technical competency (or competencies) can be included in the competency model in these possible ways:
Example of Technical Competencies with Levels and Behavioral Descriptions
Microsoft Excel Skill: The ability to use Microsoft Excel to develop plans and analyses, and to prepare reports displaying the results of analyses in tabular and graphical format.
Levels
General Descriptions of Levels
Behavioral Descriptions of Levels
Basic Proficiency
• Has completed a basic training course, if one is available.

• Has begun to apply skill/knowledge.

• Has completed Excel I course.

• Has prepared at least one analysis using Excel, with supervision.

Intermediate Proficiency
• Has developed some breadth or depth of knowledge and skills, but has not mastered all areas needed for full proficiency.

• Has significant experience and practice applying knowledge and skills across many relevant areas.

• Has completed at least one Excel course beyond Excel I.

• Has prepared at least 6 analyses and reports using a variety of functionality.

Full Proficiency
• Fluently applies the skills and knowledge in all applicable tasks performed in his/her organization.

• Has extensive experience and practice applying this skill area across all relevant areas.

• Has provided technical leadership of the full range of applicable tasks performed in his/her organization.

• Has completed at least 4 courses in Excel.

• Fluently uses look-up tables, queries, formulas for financial applications, pictures and drawings, pivot tables and what-if analyses;

• Has led the preparation of complex analyses and reports.

Expert
• Has developed training materials and had extensive experience teaching this skill/knowledge area to others.

• Has cutting-edge knowledge of state-of-the-art application of this skill/knowledge area outside of the organization.

• Has developed new tools or technology for this area.

• Has developed and delivered advanced courses in Excel

• Develops applications for Excel, using Visual Basic

• Is recognized and sought out as an Excel expert within the company.
Summary of Options for Implementation
If you have jobs for which a high degree of competence in a technical area is required,
It is not necessary to purchase a comprehensive technical dictionary. Technical competencies can be included in a model or application in a number of ways:
1) One of the competencies in Workitect's competency dictionary is:
Technical Expertise(#21)
Definition: Depth of knowledge and skill in a technical area.
Effectively applies technical knowledge to solve a range of problems
Possesses an in-depth knowledge and skill in a technical area
Is able to develop technical solutions to new or highly complex problems that cannot be solved using existing methods or approaches
Is sought out as an expert, to provide advice or solutions in his/he technical area
Keeps informed about cutting-edge technology in his/her technical area
Under this competency, the specific technical skills and knowledge requirements can be listed, as shown on page 14 of the Project Manager model and page 8 in the Web Host Manager job model.
2) Use the Technical Job Requirements Interview and other tools as described above and in:
How to include Technical Competencies in Competency Models
Managing Role-Specific Technical Competencies
3) Schedule an onsite session of our Creating Technical Competencies workshop and learn how you can identify and include technical competencies in job competency models.
The workshop can be combined with our Building Competency Models workshop.
But, if you prefer to acquire a technical competencies dictionary, you can purchase one from one of our strategic partners, IBM or Lexonis through us.

If you have any questions about including technical competencies in models, or want to purchase our dictionary or a technical dictionary, please contact us at 800-870-9490, email ec@workitect.com, or complete this contact form.
Learn more about Workitect's consulting services, workshops, and products, including competency dictionary, interview guides, and development guides.
Join the LinkedIn Competency-Based Talent Management group.
©️2023, Workitect, Inc.