A Simple Competency-Based HR Implementation Kit
Get Started Now!
This is an Integrated Set of Practical, User-Friendly, and Cost-Effective Tools
Ideal for organizations with 200 – 5,000 employees
In an Editable/Customizable File Format.
All tools incorporate 35 foundational and leadership competencies that have been developed and tested over 40 years.
Customizable 280-page workbook that helps organizations implement competency-based human resource systems, and helps individuals improve their competencies and opportunities for career advancement. It provides background on competencies and instruction on setting competency development goals, along with specific suggestions for developing each of 35 different competencies.
Web-based, on-line version of the Competency Development Guide, containing comprehensive employee development and coaching tools with direct links to developmental resources for 35 competencies. It provides an efficient and cost-effective way for people to develop and acquire new competencies needed to achieve personal or career goals.
Competency Interview Guides provide an easy-to-follow format for structured, behavioral-based interviews. Each Guide, with specific questions related to the competency, makes it easy for the hiring manager or interviewer to collect behavioral examples about a candidate's relevant work experiences and accomplishments.
Thirty-five core, leadership, and foundational competencies with definitions and behaviors, described in levels by job role and levels of proficiency. Technical competencies can be added with a unique process taught in our Creating Technical Competencies workshop. Available in Spanish, French, German, and Italian. This dictionary helps organizations to accurate the effective use of competencies.
ALSO AVAILABLE – at 20% Discount With License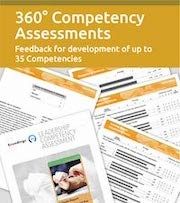 This 140-item instrument and report provides clear, concise feedback from direct reports, peers, internal customers and supervisors along with the participant's self-assessment. The participant receives feedback on the degree to which he/she has been observed demonstrating the 35 competencies in Workitect's competency dictionary.

This 3-day public, onsite, or live online workshop certifies participants to effectively use a six-step process to develop their own competency models without external assistance. More than 1,200 HR professionals have already attended this workshop. Built on best practices and decades of research, Workitect offers the most powerful competency framework available today. Learn how to develop and implement models within your organization to align your business strategy with your talent strategy.
DETAILS ABOUT ACQUIRING A LICENSE FOR THIS COMPETENCY IMPLEMENTATION BUNDLE

For additional information, call 800-870-9490, email edward.cripe@workitect.com
or use the contact form at  Workitect.
"Genius is the ability to reduce the complicated to the simple." C.W. Ceran