Use a flexible and comprehensive competency dictionary to develop custom competency models.
Throughout the years we have been building competency models for organizations, our consultants have spoken with many human resources executives about their earlier experience with competencies and competency models. Many have compiled their own dictionary of competencies to create various forms of competency models. Some have also formulated, with the input of the organization's executives, a competency framework featuring a list of core organizational competencies. The fact that they chose to speak with us about Workitect's services and resources usually indicates that they are not completely satisfied with what they have done on their own without outside assistance. An apt descriptor of their approach is that it is a "homemade" effort. Note: some HR and non-HR professionals appear to be satisfied with their homemade approach.
Various reasons are given for not being completely satisfied with the competency models and HR applications that were created. The main reason seems to be a lack of acceptance by employees, caused by a lack of understanding of the intended purpose of the models and lack of any involvement in creating them. Competency models are often thought of as an extension of job descriptions, that create an expectation of additional unclear personal responsibilities.
Dissatisfaction with an internally-developed competency dictionary stems from a lack of confidence in having identified a complete list of the right competencies described in the right format, with behavioral indicators for each competency being clear and accurate. In other words, if we are going to use homemade competencies in our recruitment, assessment, training and development, succession planning, performance management, and compensation processes, are we sure we have it right? In addition, will the wrong core competencies negatively influence long-term business results? Will the overall results be viewed as "half-baked"?
To summarize…
Advantages of Custom Competency Models
Easy to incorporate the language and culture of the organization.
Feeling of ownership – this was created by us and is ours.
Basic knowledge of competencies will be required and acquired.
Possible Disadvantages of Homemade & Off-the-Shelf Approaches
Not using a tested methodology that meets professional standards.
Competencies and models not accurately incorporating the culture, values, and language of the organization.
Limited staff availability – time of HR staff taken from other responsibilities.

Longer time to complete the work.
Poorly described (unclear, confusing, meaningless) competencies, models, HR applications, and organizational core competencies.
Copyright infringement by using copyrighted competencies and off-the-shelf competency models.
Making Custom Homemade Work
This approach is illustrated below: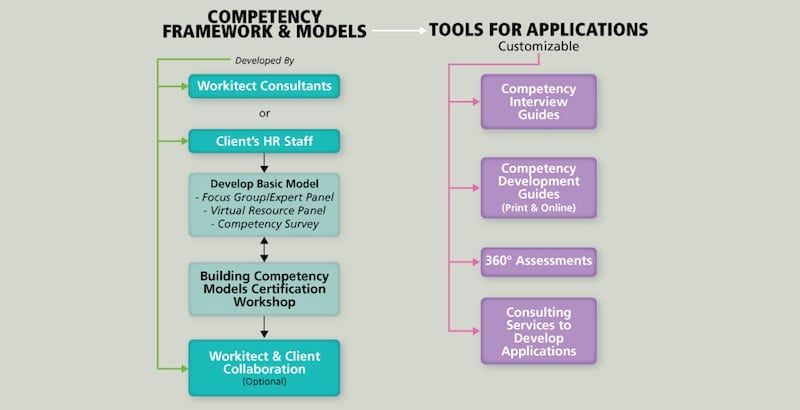 Helpful blog posts:
Guided Launch of a Competency Modeling Project
Tailor job competency models to your organization's vision, mission, and shared values
Doing Competencies Well: Best Practices in Competency Modeling
Include Technical Competencies in Your Competency Library
Accelerate the Effective Use of Competencies
WORKITECT TOOLS THAT HELP ORGANIZATIONS TO EFFECTIVELY SELECT, DEVELOP, AND RETAIN SUPERIOR PERFORMERS


To learn more about our products and services, and how competencies and competency models can help your organization, call 800-870-9490, email info@workitect.com
or use the contact form at Workitect.
©️2022, Workitect, Inc.