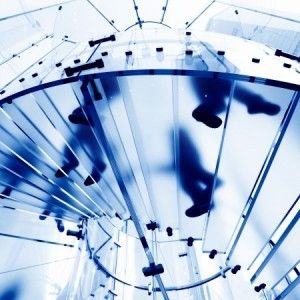 Last March, we wrote about the benefits and challenges of using competency models for succession planning and mentoring leaders. In today's employment environment, where there is a clear shortage of skilled workers, the practice of succession planning has however evolved beyond the grooming of future senior executives to include the development of employee skills at every level of the organization.
By understanding the advantages of building competency models for entry or mid-level employees, companies can learn to adequately cope with an increasing number of lateral moves – e.g., an employee transferring to a different function, a different team or a different geography.
It is indeed critical to grasp the idea that in most lateral moves, the employee's job responsibilities and environment change, thus affording the employee new opportunities. Concurrently, it affords the company the opportunity to build upon its workforce, provide growth paths, and engage employees.
Succession planning or retention strategy? It doesn't matter; it's a win-win.
The fact of the matter is, despite a declining unemployment rate, most of the recent improvement has stemmed from workers dropping out of, or never entering, the labor force due to weak job opportunities.
A recent article from the Economic Policy Institute states that if the 3.4 million "missing workers" (those jobless workers who would be in the labor force if job opportunities were stronger) were in the labor force looking for work, the unemployment rate would be 9.4%, instead of 7.4%. In other words, the labor market remains extremely weak by historical standards.
We continue to believe that this environment is caused by the fact that many "workers" lack the right skills. And if hiring isn't a possibility for many companies, due to weak demand for non-essential goods and services, more education and training to help workers make lateral job transitions could be the best way to boost productivity.
To achieve this increased productivity at the same staffing levels (or what we like to call 'the art of doing more with less'), companies need to find ways to not only retain their high-potential workers, but also to motivate them to develop competencies that serve the organization's main objectives by granting them access to better-suited – and possibly higher-paying – roles.
Giving your workforce the opportunity to succeed
A typical corporate scenario of job advancement consists in personnel internally distributing an opening, or job posting, and giving its employees the chance to apply.
But more often than not, employees who may be interested in this position – and worse, those who would have the competencies to become top performers in this function – have never had, until then, the chance to review the skills required to access this role, much less given the opportunity to develop and demonstrate those skills.
What we observe as a result is the company admitting to not being able to find suitable talent in-house, and investing considerable sums to recruit externally a new candidate who may or may not succeed. What's more, at the other end of the equation, in-house employees feel betrayed, and lose their motivation to remain an actively invested part of an organization that fails to recognize their potential or that does not provide sufficient opportunities for development and advancement.
Organizations would have a lot more to gain from developing and implementing competency models, and making those available for consultation to all employees. Managers could then use these models in their regular discussions with their staff, particularly at the time of performance evaluations, to create a career path "progression map", develop skills, retain employees, and keep motivation high.
Not convinced your organization needs competency models?
There are several valid reasons to include competency modeling in your talent management strategies, but one key issue that indicates a need for competency-based succession planning systems is poor promotion or placement outcomes. In simpler words: when too many people hired, promoted or transferred to new responsibilities fail or quit.
For instance, your organization may have promoted the best salesperson to sales manager or the best technical professional to supervisor, only to find out that this employee lacks essential interpersonal understanding and influence skills.
From line worker to supervisor to manager to director to vice president… an employee may exhibit signs of top performance at some of these levels, and fail at others. The reason is that these positions require very different sets of competencies. Your best technical expert may be your worst manager but until you have the right tools to accurately assess 1) the skills each job role requires and 2) the skills each worker possesses and has the ability/interest to develop, you cannot continue promoting and hiring, and hoping for the best. Your HR ROI depends on it.
In her Forbes article "What Employers Need To Know About The Class of 2012," Jacquelyn Smith cites a recent study that shows that the majority of graduating students are looking for career advancement over anything else. Creating career paths through competency models is not something most companies do well, and most employees don't understand how to move either horizontally or vertically in an organization.
To boost productivity and minimize turnover, your company must make clear how and where your employees can move on their career path…. or you not only risk losing them to a competitor, you jeopardize the success ratio of your talent management strategy – whether that is at the recruiting, promoting or retention level.
Learn more about Workitect's approach to competency-based succession planning.
For more information on building competency models for your organization, we invite you to attend one of our workshops or contact us for a tailored strategy.

To learn more about our products and services, and how competencies and competency models can help your organization, call 800-870-9490, email edward.cripe@workitect.com
or use the contact form at  Workitect.
©️2019, Workitect, Inc.